The PAGE Executive and Contact Information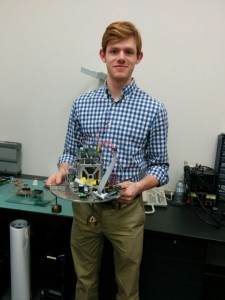 President
Hugh Podmore
Contact Info: podmore@yorku.ca
Profile: Hugh is a 2nd-year PhD student studying photonic integrated circuits for miniaturized instrumentation with applications towards remote-sensing of the atmosphere from space. His unofficial title is lead photon-wrangler and his other research interests include attitude determination and control, solar cell technologies, refractive index engineering, and light trapping. In his spare time Hugh plays quidditch, ultimate frisbee, and the guitar. He aspires to one day become a famous musician like the great drummer Richard Feynman.
---
VP Finance and GSA Rep
Paul Oh
Contact Info:
Profile: I am a 2nd-year MSc student who is theoretically working on gravitational lensing effects. Einstein's theory of general relativity is one of the most profound theory in Physics, and it gives us precise guidances to understand cosmological phenomena. One of its direct consequences is, we are sometimes able to see a galaxy hidden behind another galaxy due to bendings of light.  As they are perfectly aligned with our viewing direction, we see a ring around the front galaxy. The beautiful fact apart from its beautiful sight is that we can investigate on a mysterious quantity called Dark Energy which may be the clue to understand BigBang. Seeing trillions of stars galaxies out there with millions of lensing effects is simply mindblowing. I am very passionate about learning fundamental theories of nature and hoping to come up with a theory that can describe the entire cosmos on my own. Please come talk to me if you want to know more about Cosmology!
VP Internal and PAD Rep
Hermina Beica
Contact Info:
Profile: 
Hermina is a 4th year PhD candidate studying Atomic Molecular and Optical physics under Prof. Kumarakrishnan.
VP Internal and GSA Rep
Keavin Moore
Contact Info: mooreke@yorku.ca
Profile: Keavin is a 2nd year MSc candidate studying the response of circumbinary planets to common envelope evolution of their host stars under Ray Jayawardhana. When not studying Tatooine-like planets, his other research interests include protoplanetary disk frequency in single and binary star systems, and precision measurement of gravitational redshift. Keavin's hobbies include playing guitar, going to concerts, and hiking. He hopes to one day increase public interest in STEM fields through media outreach.
Description of Duties:
President: S/he is responsible for coordinating all of the activities.
VP Internal: S/he acts as an assistant to the president coordinating and running events.
VP Finance: S/he keeps record of the expenses.
GSA Rep: 
S/he is a member of the Council of the Graduate Students' Association (GSA). S/he participates in 
the GSA council meeting
 to look after our benefits and needs.
PAD Rep: S/he is the graduate students representative in the Physics and Astronomy Departmental meeting (PAD). S/he participates in the Departmental meetings to look after our benefits.
Previous PAGE Committee Members:
16-17 Hugh Podmore, Hermina Beica, Azita Jovaini, Keavin Moore, Paul Oh
15-16 Alex Terrana, Hugh Podmore, Richard Thai
14-15 Alex Terrana, Lewis Wei Lin, Naif Al-Salem
13-14 Jesse Rogerson, Naif Al-Salem, George Conidis, Gabriel Palacino
12-13 Jesse Rogerson
11-12 Jesse Rogerson, Lianne Manzer, Carson Mok
10-11 Carson Mok, Panagiotis Vergados, Jesse Rogerson
09-10 Alireza Rafiee, Carson Mok, Panagiotis Vergados
08-09 Alireza Rafiee, Carson Mok, Brynle Barrett, Panagiotis Vergados
07-08 Edward Ackad, Carson Mok, Brynle Barrett, Alireza Rafiee
06-07 Edward Ackad, Carson Mok, Brynle Barrett, Alireza Rafiee
05-06 Edward Ackad, Carson Mok, Brynle Barrett, Alireza Rafiee
04-05 Scott Beattie, Eric Rotberg